Adult Forum
Adults need Sunday School too! The adult portion of our education program is called Adult Forum. Adult because you must be at least a young adult and forum because it is discussion guided by a leader and supplemented with printed or video information. We have exciting discussion and we seek to enlarge our small but vital group. Come! Discover us and add your voice to our dialog.
Topics, which vary depending upon the interests of the group, relate to our Christian history, heritage, literature and to contemporary issues and trends. In the past year we studied the Apostle's Creed and considered the theology of our favorite hymns. Amy Jill Levine lectured about familiar parables and we traveled with Rick Steves to Reformation Germany, Palestine, and Israel. We engaged questions about living the Christian life with Max Lucado, Mike Slaughter, Adam Hamilton, and Bruce Epperly. We looked for God in the movies by viewing a film and seeking places in the plot or action where God is present. Does even one of these subjects intrigue you? Then you are a person we seek!
We meet two times during the week:
Sunday morning 9:30-10:30am (same time as the contemporary worship service)
and Monday evening 7:00-7:59pm.
Same topic both times, different leaders, the room down the main hall across from the Library. The Monday meeting gives opportunity for self enrichment and learning to those who serve Sunday morning in education, music, or worship. For more information, ask any of our leaders Nancy Clarke, Nancy Rutenber, and Henry Walter.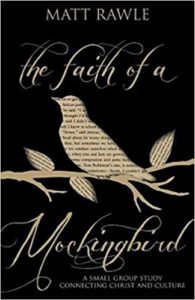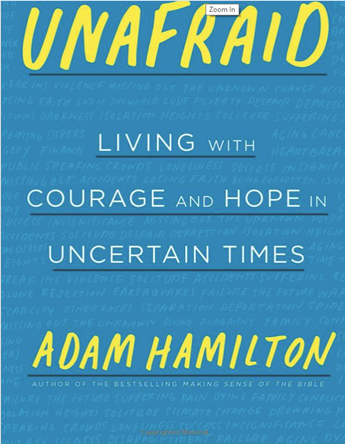 Join us as we conclude our study by Methodist pastor

Matt Rawle "The Faith of a Mockingbird."

Using characters from the novel by Harper Lee To Kill a Mockingbird, Rawle explores what it means to live out a hopeful faith in a broken world. HOMEWORK! Refresh your memory by rereading the book or viewing the movie.
Our next study will be as Adam Hamilton guides us through a study and video

Unafraid: Living with Courage and Hope in Uncertain Times

which invites us to confront our fears: fears of health, finances, relationships, the future, the consequences of the past, and even fear of God.
Our Advent study in December will be based on characters from A Christmas Carol by Charles Dickens. In between these courses, a few Sundays will have a discussion topic just for that day. What we do in January depends partly on feedback from participants.

See you Soon!